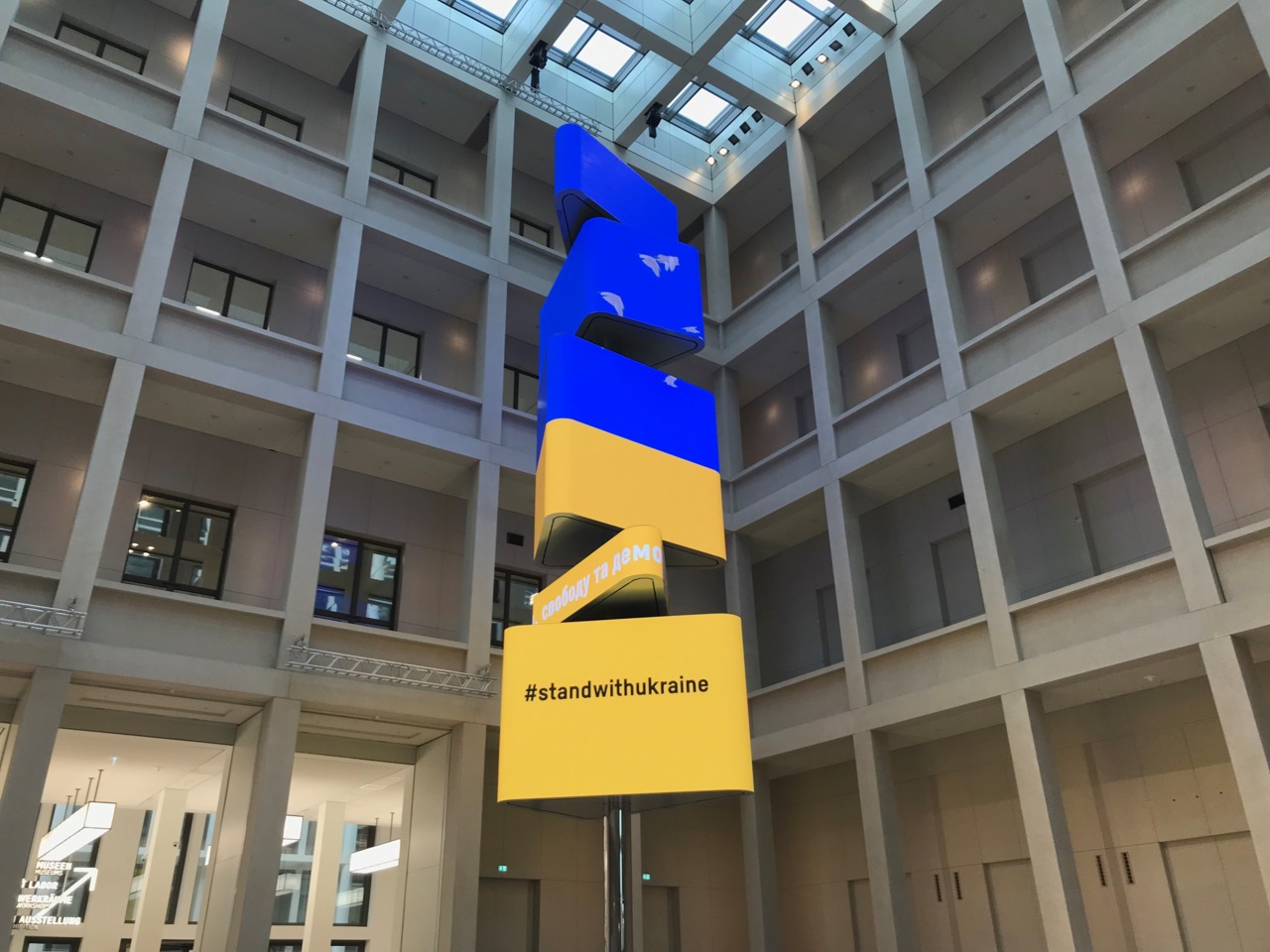 Tip
Discourse, DJ Set, Entertainment, Literature, Performance, Talk
SPÄTI - Ukraine Special
Fellows in conversation

{{currentEvent.start_hour}} – {{currentEvent.end | time_en}}

Past events
{{ time.start_TS | TS2dateFormat('DD') }}
{{ time.start_TS | TS2dateFormat('MMM') }}
{{ time.start_TS | TS2dateFormat('YYYY') }}
free of charge
Duration: 240 min

14 years and older
English
Mechanical Arena in the Foyer
Part of: SPÄTI
Fridays are SPÄTI-Time at the Humboldt Forum: Talks and music in a relaxed atmosphere. Artists present their concepts, musicians play new pieces or designers present their drafts. SPÄTI is the small stage of the unfinished, of new ideas and unplanned gatherings. For the first edition, the Mechanical Arena will become the stage for the fellows of the Ukraine Fellowship at the Humboldt Forum to present their thoughts and concepts. After a short presentation of the fellowship program by curator Kateryna Rietz-Rakul and a Q&A with the fellows, we will enjoy drinks, Ukrainian music with DJne Helleroid and a friendly get-together until the closing of the Humboldt Forum.
Helleroid
She is a music composer, producer and designer from Chernihiv, Ukraine.
Anna has a multidisciplinary background based on arts, music, maths and architecture. In her records and mixes she combines academic and experimental tunes, sound design and dense bass with voice art, poems and vocal messages.
Inspired by trip-hop, underground music, sci-fi movies and theatre, she creates cinematic soundscapes with a wide range of rhythms, nature and urban sounds. Lately Anna has focused on recording live mixes, label OBRIY and producing sounds for films, exhibitions, podcasts etc.
"I just want to fill people's hearts with energy and let their imagination create images, guide them through music as if it were a movie… and also move their bodies a bit".